Projects
New Dunedin Hospital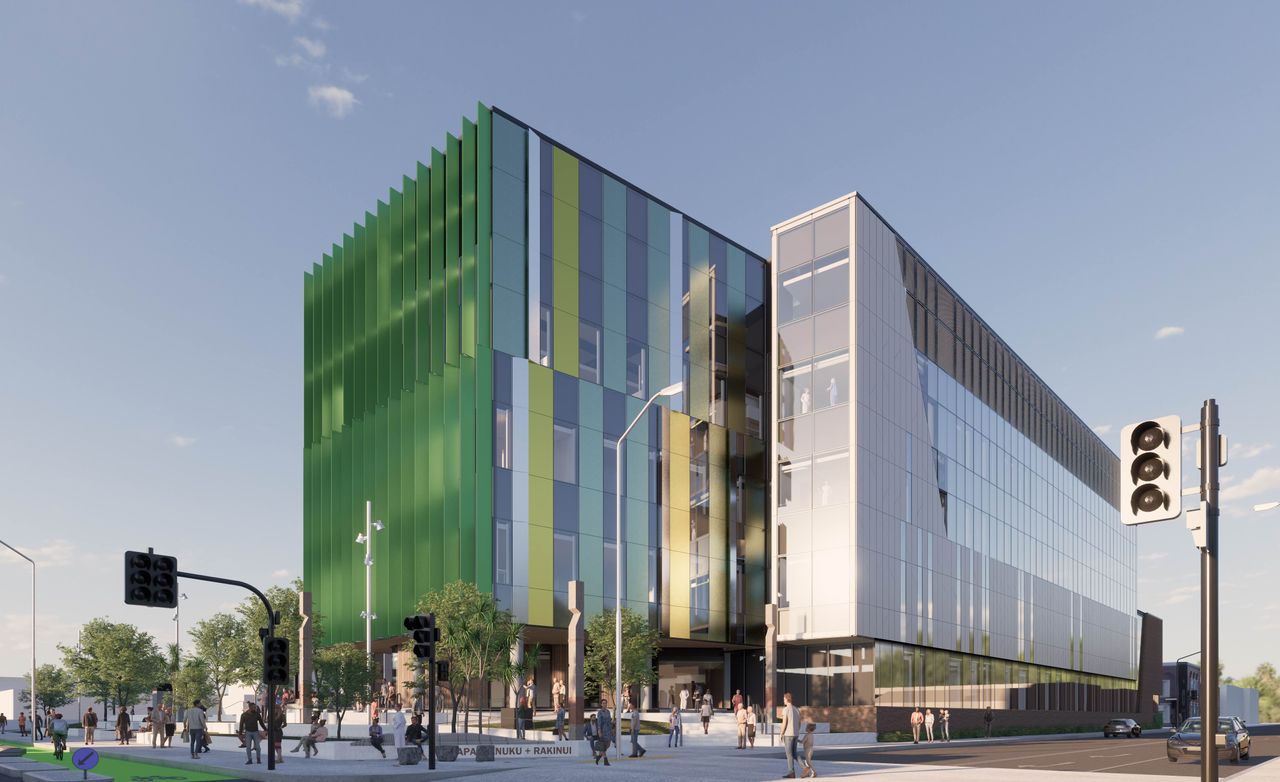 RCP is orchestrating some big changes in Dunedin as it oversees design and construction of the new billion-dollar Dunedin Hospital.
The hospital, which will be New Zealand's largest, is being built in two stages: an Outpatient Building (planned to open in 2025) and an Inpatient Building (planned for 2028). The new hospital will include 421 beds, 16 theatres (expandable to 21) and 30 ICU beds (expandable to 40). The two buildings will be joined by a bridge.
While the new hospital will be similar in size to the current one, its design, and its use of the latest technology and digital solutions, will mean greater efficiency, including patient flow around the hospital, and better access to diagnostics and treatment spaces.
RCP oversaw demolition of the old Cadbury site in Dunedin to make space for the new hospital. All of the buildings contained asbestos, which took 12 months to painstakingly remove across the site. The work was completed ahead of programme and on budget.
The new outpatient building is a fast-track design-and-construction project to create short-term relief to the existing hospital while the main Inpatient building is being constructed. RCP managed the design in parallel with the demolition and site clean-up activities.
The 'design as you go' approach requires a more flexible engagement process with end users, who are still operating the existing building. Success relies on having a good functional brief up front from a planning perspective and good user-group interactions in real time to move the design forward faster.
To secure buy in, the design process has included considerable engagement with multiple stakeholders to establish and manage the various expectations, including clinical user groups, mana whenua and local authorities. The work is second nature to RCP, which has created a successful design management framework to engage and capture the necessary input and feedback into the right stage of each design process. These principles have been absorbed into the overall execution plan, which governs the processes and management of the overall project.
RCP is leading the codesign process between the design team and Aukaha, the organisation representing mana whenua. RCP has pioneered the development of a process that meaningfully addresses cultural considerations of the local area. It is working collaboratively to deliver key narratives for mana whenua in the design, rather than taking a more traditional approach where mana whenua reviews the design team's interpretation of key narratives. RCP has also overseen the development of new Māori models of care in conjunction with mana whenua, a first for such a large public hospital project.