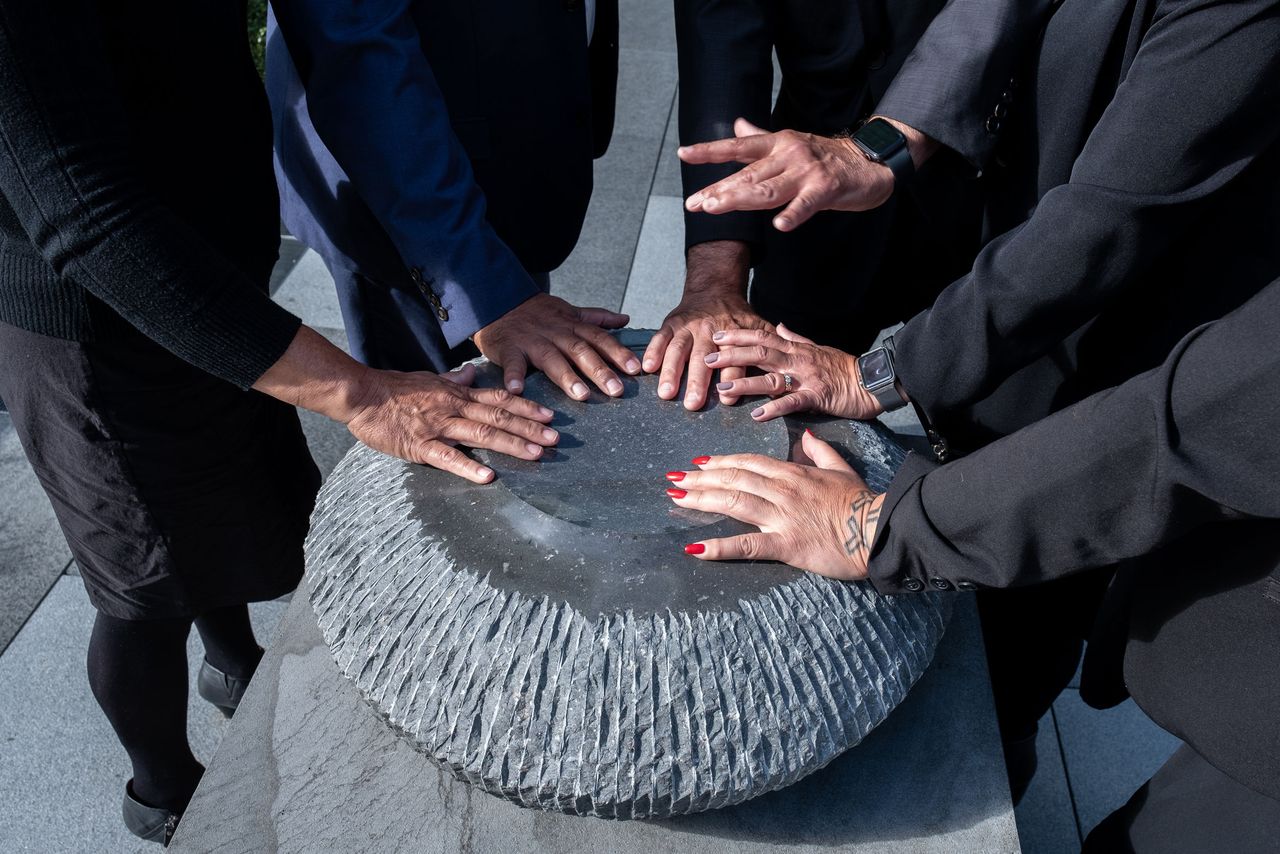 About
Our Commitment
Te kī taurangi
RCP is committed to using its resources, skills and experience to 'shape, organise and deliver a better world'.
We use our industry leadership to develop and drive positive, broader outcomes for local communities through our projects by maintaining a balanced investment approach across the following initiative areas:
Cultural Connectivity
RCP is committed to creating an environment of togetherness underpinned by the principles of partnership, protection, and participation. We provide relationships and frameworks that support iwi and Pasifika community members to meaningfully participate in all levels of project decision making.
Cultural Capacity Training

Our team are committed to continually learning and increasing our cultural competency and have a cultural capacity programme across the business. This programme aims to embed te ao Māori skills and values such as Kaitiakitanga, Tikanga and Kawa as well as Te Reo Māori competency across RCP and our staff.

We have recently partnered with Education Perfect to implement their Te Ao Māori for Professionals Course.
Collaborative Work Programmes

We support a collaborative work programme between our teams and local iwi and hapū to identify and capture tikanga Māori unique to the area and to reflect these elements in a meaningful and practical way through meaningful co-design processes.

Our aim is to enhance and celebrate local communities and embed a project authentically in its place - both as this relates to the development and manifestation of design narratives and mahi toi outcomes, as well as operational and functional solutions that reflect and acknowledge te ao Māori.

We value culture and its place in grounding identity, values, interactions, and our connection to the land and spaces. At RCP, we practice cultural sensitivity and strive to value the cultures of all people, helping to realise cultural values and narratives in our projects.

RCP is particularly focused on ensuring Te Ao Māori and Tikanga Māori are valued and that mana whenua are valued as true partners in delivering great outcomes.
Stakeholder Cultural Support

RCP's cultural and diversity kaupapa acknowledges the principle and spirit of whanaungatanga and our approach is to provide the "technical bridge" to advise and guide stakeholders, including mana whenua and the Pasifika community, though the project environment and to contribute to project outcomes meaningfully and proactively. 

We are experienced in the creation of a project environment that supports technical togetherness underpinned by the principles of partnership, protection, and participation.
Education & Employment
We have an ongoing commitment to advancing the size, skill and diversity of New Zealand's construction and property sector workforce, and supporting local education and employment opportunities and internships.
Keystone Property Education Trust

RCP are a proud long-term sponsor and key scholarship partner of the Keystone Property Education Trust. The Trust is a registered charity that promotes opportunities for young people to enter the property and construction industry. Our fundamental goal is to support and enable students who have financial need or have been affected by adverse circumstances to take up tertiary studies in the property sector.

As a key scholarship partner, RCP is not only providing financial support to students but also industry connectivity, support, training, and mentoring. RCP Managing Director, Jeremy Hay, has been a Keystone Trustee since 2016.
Graduate & Internship Programme

RCP's graduate and internship programme offers multiple graduate and intern positions throughout Aotearoa annually. The start date for summer internships was November 2022 and the start date for graduate rolls is February 2023.

Our 2022 / 2023 intake saw 75 applications received and the appointment of six interns and three graduates across the country including 2 interns in the Tauranga office.
National Job & Skills Hubs

RCP is a supporter of the Job and Skills Hubs, a Ministry of Business, Innovation and Employment initiative which provides recruitment connections for workers and employers to support the construction and infrastructure sectors of Aotearoa.

This includes the Workforce Central Dunedin where, through specific engagement with the local community via schools, community groups, local industry and training providers a connection is provided between jobseekers and projects.

RCP has worked with Work Force Central Dunedin to specifically hire from local tertiary institutions including two students from Otago Polytechnic who are working for RCP on the New Dunedin Hospital project. We have also participated in a school student shadowing initiative to introduce students to the construction industry and  specifically, the role of a project manager.
Opportunities For Māori & Pasifika

RCP works alongside our clients to enable opportunities for local and diverse businesses to engage on our projects. We are uniquely placed to achieve this through the development of our procurement strategies where we will provide for local and diverse businesses, including Māori and Pasifika owned businesses, to have equitable opportunities to participate in the development, design, and delivery processes.

RCP have also entered into a partnership with Te Runanga o Ngāi Tahu – offering two internship positions (Dunedin and Christchurch) with a property project management focus for Ngāi Tahu whanau for this past summer 2022 / 2023.

RCP is looking to continue this annually and is currently exploring opportunities to enter into similar partnerships with other iwi and hapū across Aotearoa.
Industry Improvement
RCP is mindful of our leadership role within New Zealand's broader property, construction and infrastructure, and we are committed to giving back to the commercial community that has stood by us. Our vision is for sustainable, innovative and economically viable building industry which continues to create spaces and places for Aotearoa to thrive.
Construction Sector Accord Network

RCP are active supporters and contributors to the Construction Sector Accord Network, a joint initiative between government and our industry to work together to create a high performing construction sector for a better New Zealand. We have made a commitment to uphold the Accord Network Pledge in support of the Accord vision.
Property Council of New Zealand

RCP has been longstanding supporters and sponsors of the Property Council of New Zealand who provide valuable advocacy, leadership, network and research on behalf of the property sector. RCP has been longstanding supports of the PCNZ annual property awards sponsoring the Commercial Property Award for a number of years.
Mates in Construction

RCP is a founding member of the MATES in Construction initiative. Our staff have undergone general awareness training through the MATES programme, and some have progressed with Connector Training.

Connectors function within our organisation and as part of our project teams (site and non-site based through both design and construction phases) to recognise, encourage and build capability to provide an environment that encourages positive wellbeing and empowers staff to "connect, collaborate and connect" and talk about health and safety, mental health, and wellbeing.
NZ Health Design Council

RCP is an active member of and contributor to the New Zealand Health Design Council who advance quality in the design, planning and management of New Zealand's health facility infrastructure. We are champions of collaboration amongst this vital professional community for the betterment of health and wellness outcomes for Aotearoa.
Social Philanthropy
RCP has always maintained a busy social investment programme across various philanthropic entities throughout Aotearoa. We provide support through direct financial contributions and fundraising, pro-bono management support and advice for capital projects, or via contribution of 'time-off' for team members to lead and be involved in 'community good' organisations.
Tania Dalton Foundation

RCP are scholarship partners of the Tania Dalton Foundation which supports young New Zealanders, from all circumstances and stages of development, to unlock their talents and be their best selves. The goal is to engage with thousands of youth across the country through a range of programmes aimed at making a positive and measurable impact on the youth of Aotearoa.
Child Cancer Foundation

The Child Cancer Foundation provides support to children, caregivers and families impacted by child cancer. RCP has been a proud hero partner of the Foundation since 2012, with Managing Director Nick Beale having been on the Board over this duration.

Nick has contributed at several levels, including being appointed as Board Chair in 2018 – 2020, during which time that the innovative Big Hoot Campaign took place across the streets of Auckland – with over 100 painted owls on the streets of Auckland culminating in an auction raising funds for the Child Cancer Foundation. RCP were not only and Owl Sponsor, but also a proud Owl Owner.
Māia Health Foundation

Our team are passionate about what we do and working on projects that better our local communities. This is exemplified on the Māia Health Foundation's Matatiki Hub project, which is a large indoor play area adjacent to the children's wards on Level 7 of the Christchurch Hospital where the RCP team donated their time to manage this project from the outset.

The 120m² Play Space is complete with spaces to explore, including an aquarium, interactive projection facility, gaming consol, slide, tunnels and even a magical fairy tree. To top it off a shiny new Radio Lollipop studio was constructed along with social spaces for the older kids.

The facility was designed to brighten up the lives of the patients and their families. It's not every day we get the chance to be involved in such a unique project, and the entire project team are really proud of the end result and to have contributed to Māia's vision from Canterbury's health system.
Good Neighbours Tauranga

RCP have recently teamed up with local charity Good Neighbours. Good Neighbours is all about offering community support and providing practical help to those in need through food rescue, urban mahi such as community gardens, fire wood distribution, food education and mentoring as well as wider tailored support to the community.
SCAPE Public Arts Trust

SCAPE Public Art Trust has brought public spaces into the spotlight by installing and promoting public art in Ōtautahi Christchurch. Their commissioning programme has produced over 216 temporary public artworks and 15 legacy artworks building a world-class public art collection for the city.

RCP has an ongoing industry relationship with the Trust, where we donate our time to provide project management services to assist the trust in achieving its community objectives. We have aided SCAPE in delivering a wide array of projects within central Christchurch since 2013 and are currently mentoring their executive team as they embark on building internal project management capability.