Projects
Eccles Building
University of Otago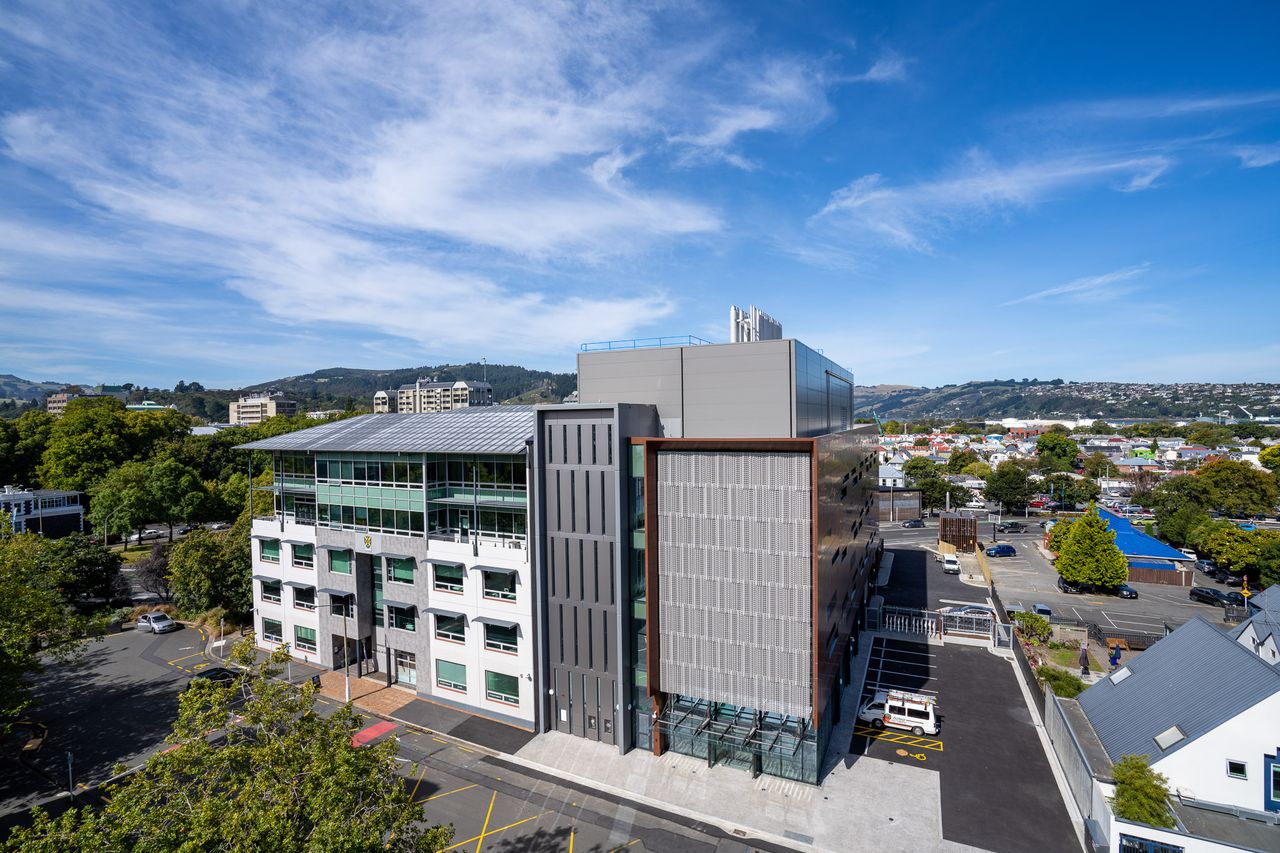 The Eccles Building advances the University of Otago's research and teaching environment for human and veterinary medicine. To meet strict Ministry for Primary Industries (MPI) accreditation and compliance requirements, the 4,000m2 facility consolidates operations from eight outdated facilities into a single state-of-the-art facility. 
RCP was engaged during the detailed design phase to oversee the design quality review prior to procurement. As well as delivering management services for the demolition, enabling works and main contract phases, we also provided senior specialists who acted in engineer to the contract and engineer's representative roles.
The five-storey building hosts a modern biomedical research and containment facility that securely houses 18 dedicated experimental rooms and an imaging suite with a state-of-the-art bio-imager, a multiphoton microscope and an irradiation machine. In all, there are 88 bookable spaces, which are used by health and science researchers.
Three floors contain level-two physical containment (PC2-rated) laboratories, which are completely sterile spaces. It also includes a full biocontainment pathogen-free barrier facility, built and tested to Physical Containment level 3 (PC3) pressure test requirements. 
Built to an 'Importance Level' 3 (IL3) seismic rating, it can withstand a one-in-500-year earthquake, and has its own back-up generator, steam supply, and four days' worth of water and automatic feeding systems. With 28 air handling units and 3.2km of mechanical ducting the building's design, construction and operation is highly complex accommodating high levels compliance, security, and redundancy to ensure animal welfare, quality of research and operational continuity. 
The project required meticulous attention to building services co-ordination and commissioning management and required the skills of a variety of international experts for the design and specialist equipment supply. RCP was also responsible for the management of specialist equipment installation by the University's separate contractors. 
Independent biological compliance peer reviews were performed throughout the project delivery, from planning and design through to construction and accreditation, to ensure a robust adherence to compliance and that control measures integrated with operational needs.
Despite unforeseen site conditions and COVID impacting the fitout and commissioning phases, the complex project was delivered 100 percent defect-free at Practical Completion in the laboratory spaces. It received the MPI accreditation, becoming the first new building to pass at first inspection.